Hello, It has been very quiet in the office this week, the calm twilight between Christmas and the New year.
Looking back on 2016
Its not much of an exaggeration to say that the Steam launch was the biggest event in Factorio history. The many months of preparation and research really came together really well at the end of February, and with the great support from our fans, we managed to top the Steam charts for several weeks after launch. To put our success in short terms, 85% of all Factorio sales have taken place in the last 12 months. We're not quite there, but we will definitely have a big celebration when we reach 1 million.
Many months passed after Steam before our next big landmark. Along the way towards a 0.13 release, and with renewed confidence in the project, we looked at expanding the development team once again. To give a summary of our reinforcements, we welcome Honza and Denis to the C++ side, Jurek and Norbert to the GFX department, and Mishka and Jitka to reinforce me in the Support department. We've also recruited two contractors, one to help with Python related tasks, and the other to work on the new theme art.
0.13 was the largest update we've ever released, and it came at a time when we have the largest number of active players in Factorio history. After launch we had a flurry of reports of broken Steam linking, troublesome multiplayer, and a nice list of bugs too. We had been preparing a long time for this, and with our full attention on the pesky bugs, it was not long before we had them in full retreat (more info). Soon though the dust had settled, and with the first waves of bug reports over, we set a good pace of further bugfix updates until it was stable just 2 months later.
Kovarex's displeasure with the multiplayer was sparked into action when he saw the MangledPork MP stream. You can read the chronicle of the multiplayer rewrite if you missed it: part 1, part 2. With the new multiplayer complete, we released a small major update, 0.14. This did not add many new features, but still took a lot of time to bugfix and make stable. Up until a few weeks ago, this was our main priority. Now at the end of the year, we are making great progress on 0.15.
The Grey market
There was a recent article on PCGamesN about fraud, grey-market resellers and what it means for all of us. After our Steam release we experienced much of the same issues as many other indie developers and publishers in these regards, so I'd like to explain the problem, our experience, and some advice for any others.
In short the problem is fraud, and the process goes like this:
A purchase is made on our website using a stolen credit card, hacked paypal etc.
The purchaser sells the key on the grey market within a couple of days.
Some weeks later the owner of the credit card notices, and issues a chargeback to us.
In many cases these people use a automated bot to deal with automatically purchasing the game and trying all of details in their credit card database, and then posting these keys to these 3rd party websites. We only saw this fraud happening for us after our Steam release, because the real money is in selling Steam keys - not many people care about website keys. On our side, the cost is very large, each chargeback costs roughly $20 in fines, effectively a negative sale, and we were seeing upwards of 10% chargebacks on our website transactions. Also each chargeback notice had to be handled on a case-by-case basis, at one point I was spending 12 or more hours a week dealing with individual purchases.
A common saying I hear is that this isn't a problem, because 'The devs just revoke the keys', well that simply isn't true, we don't get notice of a fraudulent payment right away, it can take upwards of 8 weeks for the chargeback to be issued, at which time the key is obviously going to be already sold for profit and forgotten. We still revoke these keys, often to the dismay of the purchaser.
So an easy solution would be to stop offering Steam keys, the typical effect of some people ruining it for everyone else, but we didn't want to immediately go down that route. First we tried to add additional 'hassle' for these people. We limited transactions to 2 for each credit card, we tightened up the checks our payment provider offered, and we implemented the Steam linking. Each stage of this was only effective for a short period of time, before inevitably the fraudsters adapted to the new circumstances, and our changes were circumvented.
After some research, we switched from processing payments through braintree and paypal, and instead implemented the incredible Humble widget. Specifically Humble widget has a built in fraud prevention, which completely stopped all the chargebacks we were seeing. I highly recommend the Humble widget for anybody looking to process payments on their own website.
In the end this fraudulent activity is only beneficial to the middlemen, in this case the fraudster and the 3rd party marketplace. For the developers, at best they are receiving the price of a normal purchase, and at worst they are charged for the privilege of being defrauded. From the consumer perspective its a bit more difficult, you receive the game for a lower cost, but run the risk of the purchase being revoked.
In summary of all this, I want to list the safe and secure ways of purchasing our game:
If you purchase the game through any of these sites and you have any problem, please email in to support[at]factorio.com and we can help you out.
Kill Statistics
To break up what is otherwise a large wall of text, I have a small preview of a 0.15 feature - the kill statistics: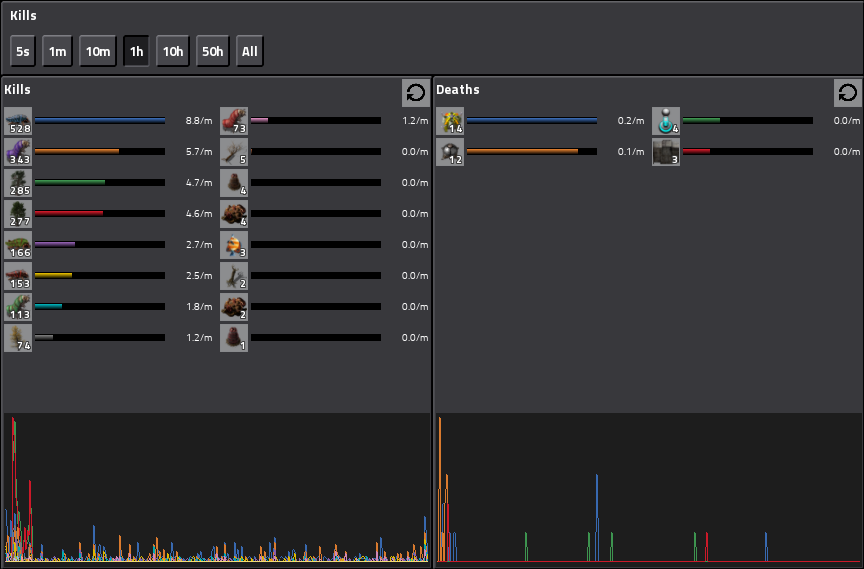 All in all its been a pretty good year for us here at Factorio. We have a lot of plans for our future, but as always, we listen to you, our community, for a lot of feedback on our direction. So drop in and give us your thoughts on our forum.